Dining Menu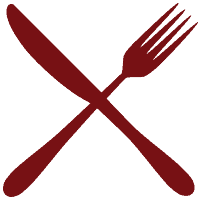 Our diverse menu of fresh salads, flatbreads, burgers, meat and pasta dishes is far from your typical bar fare. Our Cordon Bleu trained chef is always coming up with delicious and unique weekly specials and new seasonal menu items. Our appetizer menu offers a range of favorites from across the country like St. Louis Style Toasted Ravioli, Pretzel Crusted Cheese Curds and Southern Shrimp and Grits. So whether you're in the mood for a hearty meal, something light or just a beer and an appetizer to share you are certain to find something you will enjoy at Reads Landing Brewing Company.
Allergy Menu Options

Gluten-Free Options

Dairy-Free Options

Gluten-Free Options
Shrimp and Grits
Sweet Potato Tots
Garlic Fries or Plain Fries
Beer Brat Nachos
Any sandwich without a bun (not including fish tacos)
Anchor Inn Jumbo Shrimp (broiled or grilled)
Pork Chop (substitute stuffing)
Cranberry and Squash Rissoto
All Salads


Dairy-Free Options
Sweet Potato Tots
Plain Fries
Carolina Pulled Pork Sandwich
Italian Grinder (no cheese)
Burger or Chicken Sandwich
Anchor Inn Jumbo Shrimp
Grilled Pork Chop
Flank Steak (no sauce)
Cranberry and Squash Rissoto (no cream cheese)
Any Salad (no cheese)
Appetizers
Bavarian Style Soft Pretzel Sticks

5.95

Two braided soft pretzel sticks served with our home-made beer cheese and mustard dipping sauces

Blue Cheese Bacon Bruschetta

$7.95

Garlic cream cheese is spread on 4 baguette slices topped with blue cheese and bacon crumbles with marinated cherry tomatoes. Drizzled with house vinaigrette.

Scotch Eggs

$8.95

Hard boiled eggs encased in sausage and rolled in bread crumbs. Deep fried with Cajun remoulade on the side. Goes great with a house craft beer.

St. Louis Style Toasted Ravioli

$9.95

Ravioli filled with Italian sausage and toasted golden brown. Served with a side of warm marinara sauce for dipping.

Pretzel Crusted Cheese Curds

$8.95

Served with mustard sauce

Shrimp & Grits

$9.95

This is a house favorite. Baby shrimp in white wine cream with carrot, onion, topped with smoked gouda and southern style grits.

Sweet Potato Tot Basket

$6.95

Name says it all! Comes with a choice of two dipping sauces, honey butter or horseradish.
Soups / Salads
Fresh Garden Salad

$6.95

Baby spring mix greens, cherry tomatoes, onion, cucumber, with house-made vinaigrette or choice.

Chef Salad

$10.95

A bed of fresh romaine lettuce with ham, turkey, hard boiled egg, cherry tomatoes and cucumbers sprinkled with shredded cheddar cheese. Choice of dressing.

Field Green and Beet Salad

$10.95

Entree size fresh field green salad with roasted beets, goat cheese, red onion and candied walnuts. Add chicken or shrimp for an additional charge. (Dairy-Free only without cheese)
Flatbreads
Margherita Flatbread

$7.95

Marinara sauce, mozzarella cheese and fresh basil.

Buffalo Chicken

$8.95

Spicy buffalo sauce, mozzarella and blue cheeses combined with sautéed chicken. A game day favorite!

Hawaiian

$9.95

Our in-house smoked pulled pork, mozzarella and pineapple chunks drizzled with BBQ sauce.
Sandwiches
Includes choice of side.
Burger By You

$9.95

Voted "Best Burger in Reads"! Starts with lettuce, tomato, onion on our brewer's grain bun. You add the toppings and make it your own. Bacon, fried egg, sautéed onion, swiss, ghost pepper, smoked gouda, cheddar, house BBQ sauce, whole grain mustard. Add $.75 for each topping and $1.00 for bacon. (Dairy-Free only without cheese)

Chicken By You

$9.95

Just like the Burger By You but with chicken! Chicken is marinated, grilled, and served on our brewer's grain bun. You pick the toppings. (Dairy-Free only without cheese)

Carolina Style Pulled Pork

$10.95

Hand rubbed pork butt, marinated in our own vinegar BBQ sauce and slow smoked in house. Topped with house-made coleslaw and served on our brewer's grain bun.

Dagwood

$9.95

The classic "Tall" sandwich. Layers of turkey, ham, Swiss and American cheese with an olive relish and herbed mayo spread piled up on toasted sourdough bread.

Shrimp Po'Boy

$11.95

Spicy jalapeno breaded baby shrimp deep fried and piled onto a fresh brewer's grain Hoagie roll. Topped with sliced tomatoes and Cajun slaw for an extra kick!

French Dip

$10.95

Prime Rib sliced roast beef, with melted smoked provolone cheese in a fresh Hoagie roll. Served with a side of warm Au Jus sauce for dipping. Add sautéed onions for $.75
Entrees
Cranberry & Butternut Squash Rissotto w/Wild Rice

$10.95

Risotto and wild rice made with white wine and vegetable stock, butternut squash, dried cranberries and sliced almonds. Add chicken (4.95) or shrimp (7.95). (Only Dairy-Free without cream cheese)

Fettuccine Pasta Alfredo

$9.95

Fettuccine pasta in a creamy parmesan and bacon sauce. Served with a side of Texas toast. Add sauteed or blackened chicken ($3.95) or jumbo shrimp ($7.95).

Grilled Pork Tenderloin

$12.95

4 oz grilled pork tenderloin served with a medley of baked sweet potatoes, granny smith apples and onions drizzled with balsamic dressing.

Fish Fry Dinner

$10.95

5 oz Cod fillet battered with our house made craft beer batter. Served with garlic fries and coleslaw

Grilled Chuck Tenderloin Steak

$16.95

6 oz tenderloin topped with Cowboy Butter and served with garlic mashed potatoes and sautéed sweet chili carrots.

Anchor Inn Jumbo Shrimp

$16.95

Remember the Anchor Inn? Four jumbo craft beer battered shrimp. If that isn't enough, it includes garlic fries and chili glazed carrots.
Desserts
Chocolate Peanut Butter Pie

$4.25

A chocolate crust is layered with peanut butter mousse and thick chocolate ganache, topped with crushed peanut butter cups.

Hot Fudge Chocolate Cake

$4.75

Moist chocolate cake flowing with warm thick fudge ganache and studded with chocolate chips.

Pumpkin Cranberry Bash Pie

$4.95

Delicate pumpkin custard with tart cranberries in a ginger snap crust. Everything we love about the holidays!