Dining Menu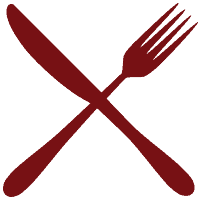 Our diverse menu of fresh salads, flatbreads, burgers, steak and pasta dishes is far from your typical bar fare. Our Cordon Bleu trained chef is always coming up with delicious and unique weekly specials and new seasonal menu items. So whether you're in the mood for a hearty meal, something light or just a beer and an appetizer to share you are certain to find something you will enjoy at Reads Landing Brewing Company.
Allergy Menu Options

Gluten-Free Options

Dairy-Free Options

Gluten-Free Options
Shrimp and Grits
Sweet Potato Tots
Garlic Fries or Plain Fries
Beer Brat Nachos
Any sandwich without a bun (not including fish tacos)
Anchor Inn Jumbo Shrimp (broiled or grilled)
Pork Chop (substitute stuffing)
Cranberry and Squash Rissoto
All Salads


Dairy-Free Options
Sweet Potato Tots
Plain Fries
Carolina Pulled Pork Sandwich
Italian Grinder (no cheese)
Burger or Chicken Sandwich
Anchor Inn Jumbo Shrimp
Grilled Pork Chop
Flank Steak (no sauce)
Cranberry and Squash Rissoto (no cream cheese)
Any Salad (no cheese)
Appetizers
Cheese Plate

$11.95

A sampling of Manchego, Brie, Drunken Goat, Sharp Cheddar and Cambozola cheeses served with cranberry chutney and baguette slices

Shrimp & Grits

$10.95

This is a house favorite. Baby shrimp in white wine cream with carrot, onion, topped with smoked gouda and southern style grits.

Bacon Cheddar Cheese Curds

$8.95

Served with our house made Dijon mustard sauce and ranch dressing for dipping

Sweet Potato Tot or Garlic Fries Basket

$6.95

Name says it all! Tot basket comes with a choice of two dipping sauces, honey butter or horseradish.

Red Pepper Hummus Crostini

$7.95

Toasted Crostini slices spread with our house made roasted red pepper hummus, topped with fresh chopped arugula and feta cheese crumbles.

Garlic Cheese Bread

$7.95

Garlic butter on toasted Ciabatta bread topped with melted mozzarella cheese and Italian seasoning. Served with a side of warm marinara sauce for dipping.

Bavarian Style Soft Pretzel Sticks

6.95

Two braided soft pretzel sticks served with our home-made beer cheese and mustard dipping sauces
Soups / Salads
Soup of the Day

Our chef creates wonderful home-made soups! Our soup changes every few weeks and is always fitting for the time of the year. Available by the cup or bowl.

Soup & Salad

$8.95

A cup of the soup of the day with a fresh Garden Salad. Choice of dressing.

Field Green and Beet Salad

$11.95

Entree size fresh field green salad with roasted beets, goat cheese, red onion and candied walnuts. Add chicken or shrimp for an additional charge. (Dairy-Free only without cheese)

Southwest Salad

$10.95

Chopped Romaine lettuce topped with black beans and corn, sliced red onion, cherry tomatoes and tortilla strips. Served with our house made creamy cilantro dressing.

Fresh Garden Salad

$7.95

Baby spring mix greens, cherry tomatoes, onion, cucumber, with house-made vinaigrette or choice.
Flatbreads
Margherita

$8.95

Marinara sauce, mozzarella cheese and fresh basil.

Chicken Alfredo

$9.95

Our house made Alfredo sauce, sautéed chicken breast, mozzarella cheese, sprinkled with fresh chopped Italian parsley.

Hawaiian

$10.95

Our in-house smoked pulled pork, mozzarella and pineapple chunks drizzled with BBQ sauce.
Sandwiches
Sandwich sides include choice of kettle chips, potato salad, coleslaw or cottage cheese.  Substitute plain fries, garlic fries, sweet potato tots or sweet chili carrots for an additional charge. 
Mahi-Mahi Fish Tacos

$12.95

2 battered Mahi-Mahi tacos with fresh romaine, tomato and house-made lime aioli wrapped in flour tortillas.

Jerk Chicken Tacos

$10.95

2 soft flour tortillas filled with pulled chicken tossed in our home-made Jerk seasoning, covered with a pineapple cilantro salsa, shredded lettuce and a creamy sriracha

BLT

$9.95

Smoky bacon, fresh lettuce and tomato served on Texas toast with a side of mayo.

Chicken Salad Sandwich

$10.95

Made in house with pulled chicken, celery, green onion, mayo, sliced red grapes and cashew pieces. Served on a buttery croissant.

Carolina Style Pulled Pork

$11.95

Hand rubbed pork butt, marinated in our own vinegar BBQ sauce and slow smoked in house. Topped with house-made coleslaw and served on our brewer's grain bun.

Smothered Rib-eye Sandwich

$12.95

Sliced rib-eye steak smothered with sautéed onions, mushrooms and melted Swiss cheese. Served on a fresh hoagie roll.

Burger By You

$10.95

Voted "Best Burger in Reads"! Starts with lettuce, tomato, onion on our brewer's grain bun. You add the toppings and make it your own. Bacon, fried egg, sautéed onion, swiss, ghost pepper, smoked gouda, cheddar, house BBQ sauce, whole grain mustard. Add $1.00 for each topping and $1.25 for bacon. (Dairy-Free only without cheese)

Chicken By You

$10.95

Just like the Burger By You but with chicken! Chicken is marinated, grilled, and served on our brewer's grain bun. You pick the toppings. (Dairy-Free only without cheese)
Entrees
Cranberry & Butternut Squash Rissotto w/Wild Rice

$11.95

Risotto and wild rice made with white wine and vegetable stock, butternut squash, dried cranberries and sliced almonds. Add chicken (4.95) or shrimp (7.95). (Only Dairy-Free without cream cheese)

Ribeye Steak

$22.95

12 ounce in-house hand cut Choice Ribeye steak served with garlic mashed potatoes and seasonal vegetables.

Filet Mignon

$24.95

8 ounce Choice Filet served with garlic mashed potatoes and seasonal vegetables. Toppings available upon request for additional charge.

Anchor Inn Jumbo Shrimp

$17.95

Remember the Anchor Inn? Four jumbo craft beer battered shrimp. If that isn't enough, it includes garlic fries and chili glazed carrots.

Salmon Piccata Pasta

$18.95

6 ounce grilled Atlantic Salmon filet served over a bed of angel hair pasta and chopped fresh spinach. Covered with our house made fresh lemon and caper Piccata sauce.

Chicken Cardon Bleu

$12.95

Chicken breast stuffed with ham and Swiss cheese and covered in a creamy Dijon mustard sauce. Served with roasted red potatoes and our in house made sweet chili carrots.
Desserts
Pecan Turtle Cheesecake

$6.95

Rich caramel fudge nestled in a silky cheesecake, topped with a layer of caramel and sweet cluster of fresh pecans with a soft graham cracker crust.

Ladyfingers dipped in coffee, layered with sweet mascarpone cream and dusted with cocoa powder.

Hot Fudge Chocolate Cake

$5.95

Moist chocolate cake flowing with warm thick fudge ganache and studded with chocolate chips.
Kids
Kid's meals include a choice of side: plain fries, applesauce or kettle chips.
Kid's Cheeseburger or Chicken Nuggets

$6.95

Grilled Cheese

$5.95